Posts for: February, 2015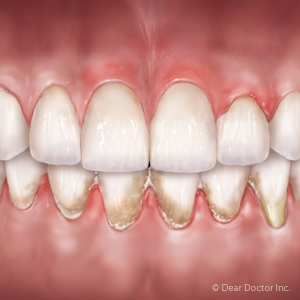 Periodontal (gum) disease can cause a number of devastating effects that could eventually lead to tooth loss. However, you may be more prone to a particular effect depending on the individual characteristics of your gums.
There are two basic types of gum tissues or "periodontal biotypes" that we inherit from our parents: thick or thin. These can often be identified by sight — thinner gum tissues present a more pronounced arch around the teeth and appear more scalloped; thicker tissues present a flatter arch appearance. While there are size variations within each biotype, one or the other tends to predominate within certain populations: those of European or African descent typically possess the thick biotype, while Asians tend to possess the thin biotype.
In relation to gum disease, those with thin gum tissues are more prone to gum recession. The diseased tissues pull up and away (recede) from a tooth, eventually exposing the tooth's root surface. Receding gums thus cause higher sensitivity to temperature changes or pressure, and can accelerate tooth decay. It's also unattractive as the normal pink triangles of gum tissue between teeth (papillae) may be lost, leaving only a dark spot between the teeth or making the more yellow-colored root surface visible.
While thicker gum tissues are more resilient to gum recession, they're more prone to the development of periodontal pockets. In this case, the slight gap between teeth and gums grows longer as the infected tissues pull away from the teeth as the underlying bone tissue is lost. The resulting void becomes deeper and more prone to infection and will ultimately result in further bone loss and decreased survivability for the tooth.
Either of these conditions will require extensive treatment beyond basic plaque control. Severe gum recession, for example, may require grafting techniques to cover exposed teeth and encourage new tissue growth. Periodontal pockets, in turn, must be accessed and cleaned of infection: the deeper the pocket the more invasive the treatment, including surgery.
Regardless of what type of gum tissue you have, it's important for you to take steps to lower your risk of gum disease. First and foremost, practice effective daily hygiene with brushing and flossing to remove bacterial plaque, the main cause of gum disease. You should also visit us at least twice a year (or more, if you've developed gum disease) for those all important cleanings and checkups.
If you would like more information on hereditary factors for gum disease, please contact us or schedule an appointment for a consultation. You can also learn more about this topic by reading the Dear Doctor magazine article "Genetics & Gum Tissue Types."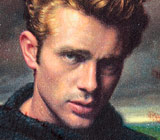 Imagine how different things would have been for movie star James Dean, had he not managed to replace the front teeth he lost as a youngster. According to one biography of the 1950s heartthrob, Dean's teeth were knocked out while he was swinging around on a homemade trapeze. Because his smile was restored, Dean was able to land the plumb movie roles that catapulted him to stardom.
This is perhaps the ultimate example of how a smile makeover can create new opportunities for a person. But opinion polls confirm that nearly 90% of adults feel an attractive smile is an important social and career asset. And, an almost equal percentage of adults feel that their smile could use some improvement.
Are you unhappy with your smile? Is a smile makeover something you've ever thought about? Dear Doctor magazine has come up with a great list of questions you can ask yourself to figure out if you would benefit from this life-changing experience:
Do you avoid smiling in photos?

Are you conscious about spaces and gaps in your teeth?

Are your teeth making you look older than you feel?

Have you held back a smile?

Do you feel that your teeth are stained or too yellow?

Do you hold your hand up in front of your mouth when speaking or laughing?

Do you notice areas of excessive tooth wear that make your smile look older?

Do you have little teeth and a gummy smile?

Are your teeth crooked, chipped or crowded?

Do you wish you had someone else's smile?
If you answered "yes" to any of these questions, please come in and see us. We have an amazing array of cosmetic procedures available to us — far more than what was available to James Dean in the 1950s. These options range from relatively inexpensive teeth whitening treatments to more permanent cosmetic solutions such as porcelain crowns and veneers. Together we can come up with a plan to give you the smile you've always dreamed about.
If you would like more information about what a smile makeover could mean for you, please contact us or schedule an appointment. You can learn more about smile makeovers by reading the Dear Doctor magazine article "Beautiful Smiles by Design." Dear Doctor also has more on "The Impact of a Smile Makeover."